An Afternoon with Steinway Artist, Yoonie Han
November 11, 2018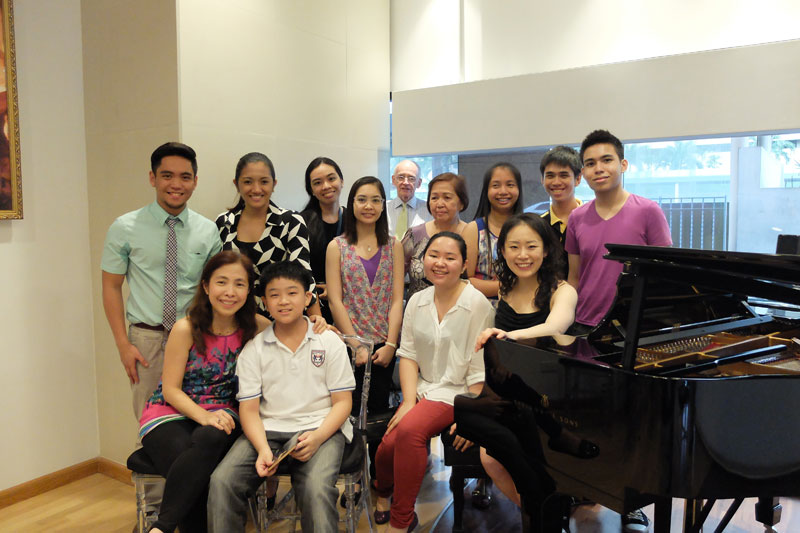 MANILA (March 18, 2015) – On August 11, internationally acclaimed South Korean Steinway Artist Yoonjung "Yoonie" Han spent the last afternoon of her short visit in the Philippines conducting a masterclass at the Steinway Boutique Manila, 6750 Ayala Avenue, Makati. "I love working with talents," Yoonie expressed, "and hope to share with them not only musical or technical aspects, but personal experiences as well."
Three accomplished young pianists participated in her two-hour masterclass: Lorenzo B. Medel was first and presented Chaconne in D Minor BWV 1004 (Bach-Busoni), Anne Marie A. Caldoza followed with Jeux d'eau (Ravel), and Laarni Dawn R. Ilan with Polichinelle, Op. 3 No. 4 (Rachmaninoff). Yoonie guided the participants as they performed their chosen piano pieces —from the background of the pieces to their successful interpretation. She engaged not only the participants but also the audience as she shared the stories behind the music, their intricacies, and depth. As piano pedagogue Cecile Basilio-Roxas commented, "The masterclass was a great learning experience."
The Participants
Lorenzo Medel began his piano studies in 2006 at age 10 under Prof. Mauricia Borromeo of the University of the Philippines, College of Music. He has garnered top prizes in several competitions in the country, including the grand prize of the First National Steinway Youth Piano Competition. He is currently into his Bachelor of Music, Major in Piano Performance at the Eastman School, University of Rochester in New York and will be an incoming sophomore in September 2014.
Anne Marie Caldoza, better known as Macky, began her piano studies at the age of 12 and has, ever since, been a student of the renowned soloist and accompanist, Prof. Najib Ismail. In March of 2013, she graduated Cum Laude from the University of Santo Tomas Conservatory of Music, with the degree of Bachelor of Music in Piano Performance. She is now enrolled at the Longy School of Music of Bard College in Boston, Massachusetts to take further studies.
Laarni Dawn Ilan is an aspiring young pianist who grew up in Bicol, Philippines. She finished her college education in De La Salle University-Manila with a Bachelor of Science Degree in Computer Science, major in Computer Systems Engineering. Laarni's first piano teachers in Bicol were Ms. Emy Cunanan and Ms. Olive Pacamarra who have built her foundations in piano playing. In May 2012, she started taking piano lessons with Prof. Cecile Basilio-Roxas. Significant progress, especially in piano playing technique, has been achieved under Prof. Roxas' mentoring.
About Yoonie Han
Praised for her "flowing tones, poetic phrasing and heavenly singing melodies" (Cincinnati Enquirer) and her "musical imagination and feel for complex textures" (Washington Post), South Korean pianist Yoonie Han has won top prizes in distinguished international competitions and the highest accolades for her performances in major concert halls around the world.
In 2009 she won South Korea's Gawon Music Award as the "most brilliant pianist aged 17 to 31 of any nationality who possesses the most promising potential for global prominence." She also won first prize in the Washington International Piano Competition (2011), the Fulbright Concerto Competition (2011), Juilliard's Gina Bachauer International Piano Competition (2008), the Cincinnati World Piano Competition (2008) and the Kosciuszko Foundation National Chopin Competition (2005) and has garnered major awards at the Helsinki International Maj Lind Piano Competition and Milan Concorso Pianistico Ettore Pozzoli Internazionale. Following her 2001 grand-prize victory in the Korea National Music Competition, she was named "most promising young artist" by the Korean Ministry of Culture.
Yoonie Han's Steinway & Sons debut album titled Love and Longing was recently released digitally on May 6 and physically on May 27, 2014. This compelling compilation predominantly includes the music of Schubert and Liszt, and their descendants Wagner and Prokofiev. Love and Longing also features the premiere recording of a flamenco-inspired piece written for Yoonie Han by composer Theodore Wiprud.
Additional information:
Official website of Yoonie Han: http://www.yoonihan.com
Steinway Artist page: http://www.steinway.com/artists/solo-profile/h/YoonieHan
Steinway & Sons album press release: http://www.steinway.com/news/press-releases/steinway-sons-releases-rising-star-pianist-yoonie-hans-delectable-debut/