Nathan John Torento to represent the Philippines in the 2nd Steinway Regional Finals Asia Pacific 2014
October 24, 2018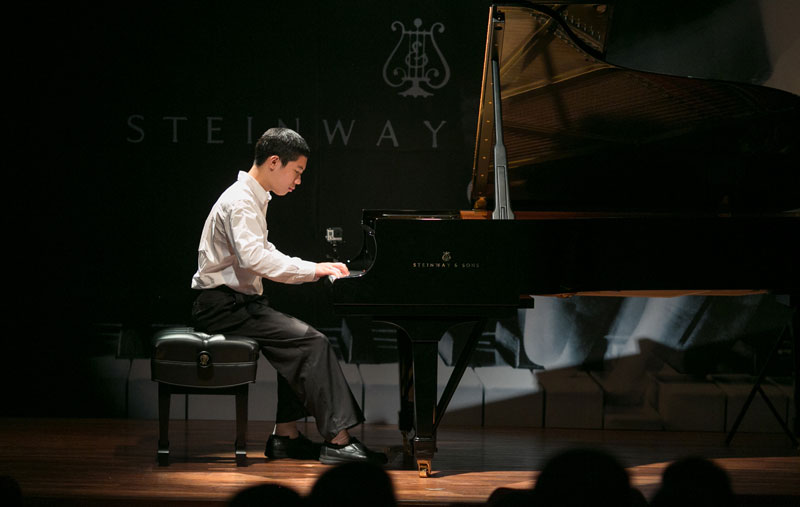 17 July 2014, Manila — Another Filipino to compete in the international scene — Nathan John Torento, a student of Chinese International School Manila will represent the Philippines in the 2nd Steinway Regional Finals Asia Pacific 2014 which will be held in Singapore on 26 July 2014.
Edith Dychiao, General Manager of Steinway Boutique Manila, said "We, at Steinway Boutique Manila, are proud to have our Filipino youth compete internationally. Let us support him as he goes on his quest to show our neighbours what we can share in terms of musical artistry. Let us hope to have a future international artist in the person of John Torento."
The prestigious piano competition is presented by Steinway Gallery Singapore and Bank Julius Baer. Eight countries namely Singapore, Taiwan, South Korea, Philippines, Indonesia, Thailand, Malaysia, and Vietnam stand a chance to perform at the International Steinway Festival in Hamburg, Germany.
Celine Goh, General Manager of Steinway Gallery Singapore, said, "We are very honoured to be given the opportunity to host the Steinway Regional Finals Asia Pacific 2014 for the second time consecutively. The aim of the competition is to create an opportunity for young budding musicians to come together from various parts of Asia to showcase their talent on a holistic platform. This competition also opens doors for the pianists to perform on an international stage in the spirit of healthy competition and friendship."
Regional Finals Contestants and the Winning Prize
The eight national winners who will participate in the competition are: Tay Wan Ni Nicole (Singapore), 12; Chae Won Kim (South Korea), 13; Celestine Yoong Qian Yi (Malaysia), 13; Teofilia Onggowinoto (Indonesia), 14; Nathan John Torento (Philippines), 15; Feng Yi Chen (Taiwan), 17; Kant Kosoltrakul (Thailand), 17; and Do Hoang Linh Chi (Vietnam), 17.
The grand prize winner will win a coveted spot to perform in the International Steinway Festival in Hamburg, Germany as a representative of the Asia Pacific alongside other pianists from different continents. Held every two years in Hamburg, this prestigious event brings together promising young pianists from all over the world for a musical get-together for an entire weekend.
The festival highlights the importance of nurturing budding musicians to pursue their passion in music and encourages the building of friendship ties. The young pianists chosen to perform for the International Steinway Festival will be given a special program of activities including an exclusive trip to the Steinway factory. The festival concert which the pianists will perform in the Hamburg concert hall "Laeiszhalle" serves as the highlight of the entire festival.
Renowned International Panel of Judges
The eight pianists will be judged by an international panel of renowned experts in the performing arts. The four judges are: Professor Ichiro Kato (Japan), Professor Mina Perry (Japan), Professor Zhou Ting (China), and Naomi Ives (Great Britain).
Professor Ichiro Kato has adjudicated many competitions such as the International Chopin Piano Competition in Asia, ASEAN International Concerto Competition in Jakarta, Gina Bachauer International Competition in Regional Finals Asia Pacific in Tokyo and Japan Piano Teachers Association (JPTA) Piano Audition.
Professor Mina Hirobe Perry is the Founder and Director of The John Perry Academy of Music and the Honors Piano Performance Seminar at the Colburn School of Performing Arts in Los Angeles. She once served as a correpetitor at the Hochschule für Musik Detmold and performs and teaches at international festivals such as Academie Internationale de Couchevel in France.
Professor Zhou Ting is currently the Chairman of the piano department at the Music Middle School affiliated to the Shanghai Conservatory of Music. As a virtuoso pianist, Ting Zhou is a recipient of numerous local and international awards including the first prize of Ivo Pogorelich at the Stravinsky Awards International Piano Competition (US) and the First National Piano Competition in China.
Naomi Ives is an Artist Manager at IMG Artists and manages a roster of internationally-renowned classical artists within the Conductors and Instrumentalists division. She received private professional music training at the Guildhall School of Music and Drama, Le Conservatoire National Supérieur de Musique et Danse de Lyon and The Royal Scottish Academy of Music and Drama.