A Masterclass with Filipino Steinway Artist Victor Asuncion
November 24, 2018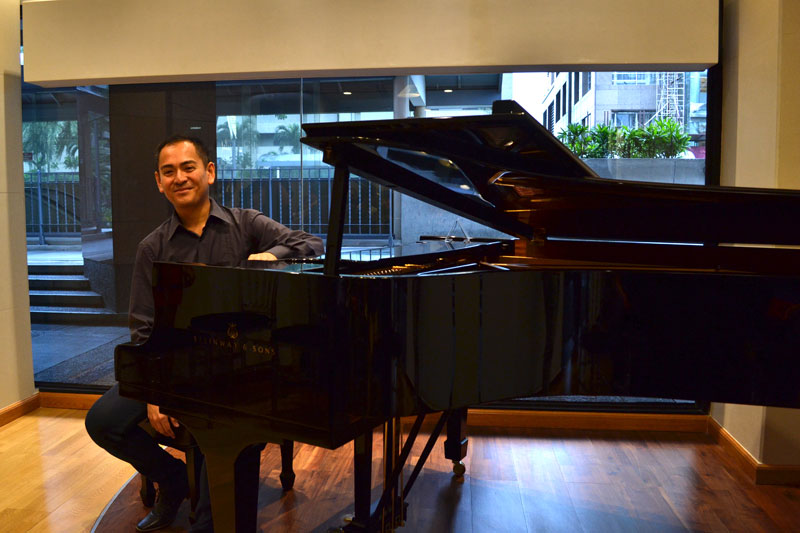 "A Steinway piano is the epitome of perfection. It's the best means of expressing the masterpiece of the great masters. It is truly without a doubt the best instrument ever built."
– Victor Santiago Asuncion
On September 20, 2014, as a part of his weekend visit to the Philippines, Filipino Steinway Artist Victor Asuncion conducted a masterclass at the Steinway Boutique Manila. Three outstanding young pianists were chosen to participate: Danica Mae Antazo, Jet Stephen Chong, and Gabriel Allan "Gabby" Paguirigan.
Gabby Paguirigan opened the masterclass by playing Liszt's Sonata in B Minor, followed by Danica Antazo who performed Beethoven's Sonata in C Major, Op. 2 No. 3 4th movement and Bartok's Romanian Dance Op. 8a No. 1. Jet Chong then closed the masterclass with his rendition of Chopin's Scherzo No. 2. All participants were lauded for their technique and musicality; Victor emphasized their strengths and gave thorough advice on technique and interpretation. He deeply engaged the audience as well in an animated discussion of music and artistry. "We tend to lose the music when we think too much about the technicalities," he explained. "The art of making music is drawing your audience with your experience. Everyone can play notes but not everyone can play music."
The Participants
Danica Mae Antazo started playing the piano at the age of six with Ms. Pearlsha Abubakar and had formal lessons at eight under Ms. Joy Vocalan-Cruz, Directress of the Music Wizard School in Angono, Rizal. In 2009, Danica enrolled at the UP College of Music Extension Program under Prof. Pia Balasico to prepare her for the entrance talent auditions. She is currently a 4th year piano major at the UP College of Music and has joined several competitions having won 1st place in NAMCYA Category B this year (2014) and 3rd place in the PTGP Ensemble Competition last 2013. She participated in notable musical events such as the Forte@40 (2012) and Concert at the Park (2011 & 2012).
Jet Stephen Chong, 14 years old, is currently a sophomore music student at the Philippine High School for the Arts (PHSA) under the tutelage of Mr. Anthony Y. Say. He won 2nd place at the Soundscape Piano Competition Category A2 of the Piano Teacher's Guild of the Philippines (PTGP) in 2011. He was also a finalist at the 2012 NAMCYA Piano Competition Category A2 wherein he won the Best Interpretation of a Debussy piece. This year, Jet represented the Piano Teacher's Guild of the Philippines (PTGP) to perform at the Pasinaya Festival of the Cultural Center of the Philippines (CCP). To date, Jet has given two solo recitals, one in 2011 and another in 2013 where he played the 3rd Concerto of D. Kabalevsky.
Gabriel Paguirigan was hailed by the Philippine Star as a "virtuoso-in-the-making" and has appeared in numerous concerts and recitals, playing solo works and chamber music in various local venues such as the Cultural Center of the Philippines, Tanghalang Maria Makiling at National Arts Center, Abelardo Hall Auditorium, Philam Life Auditorium, Rizal Park Open-Air Auditorium, and Paco Park, among many others. He has been awarded many honors in various national competitions: 3rd place and "Best in Contest Piece" in the 2010 PTGP Beethoven Piano Concerto Competition, 1st prize in the 2011 NAMCYA, Piano Category B, Top prizewinner in the 2013 PPO Young Pianists Competition and 2nd prize in the 2013 PTGP Piano Ensemble Competition. He is an incoming 5th year BM Piano student at the University of the Philippines where he also finished his Diploma in Creative and Performing Music Arts (DCPMA) Major in Piano, under the tutelage of Prof. Luci Magalit.
Steinway Artist Victor Asuncion
A chamber music enthusiast, he has performed with artists such as Lynn Harrell, Zuill Bailey, Andres Diaz, Antonio Meneses, Cho-Liang Lin, James Dunham, Ronald Leonard, Susanne Mentzer, H.K. Gruber, John O'Connor, Marc Neikrug, Liang Wang, Ensemble Sao Paolo, and the Vega and Emerson String quartets at venues that include the Phillips Collection, the Corcoran Gallery, 92nd Street Y, Benaroya, Merkin, Spivey and Shriver Concert Halls, and the Santa Fe, Aspen, Madison, Virtuosi, Pera, and Amelia Island Music Festivals. He was on the chamber music faculty of the Aspen Music Festival and School, as well as the Garth Newel Summer Music Festival. He was also the pianist for the Garth Newel Piano Quartet for three seasons.
In addition to his active performing career, Victor Asuncion is sought after as a piano, vocal, and chamber music coach. He is currently an associate professor of piano, and Director of Collaborative Arts Studies at the Rudi E. Scheidt School of Music at the University of Memphis. He received his Doctor of Musical Arts Degree in 2007 from the University of Maryland at College Park. His principal teachers include Rosario Picazo, Avelina Manalo, Roberta Rust, and Rita Sloan. You can learn more from his web site at http://www.victorasuncion.com.