Sixteen Year Old Pianist Wins the 4th Philippine Steinway Youth Piano Competition 2018
December 17, 2018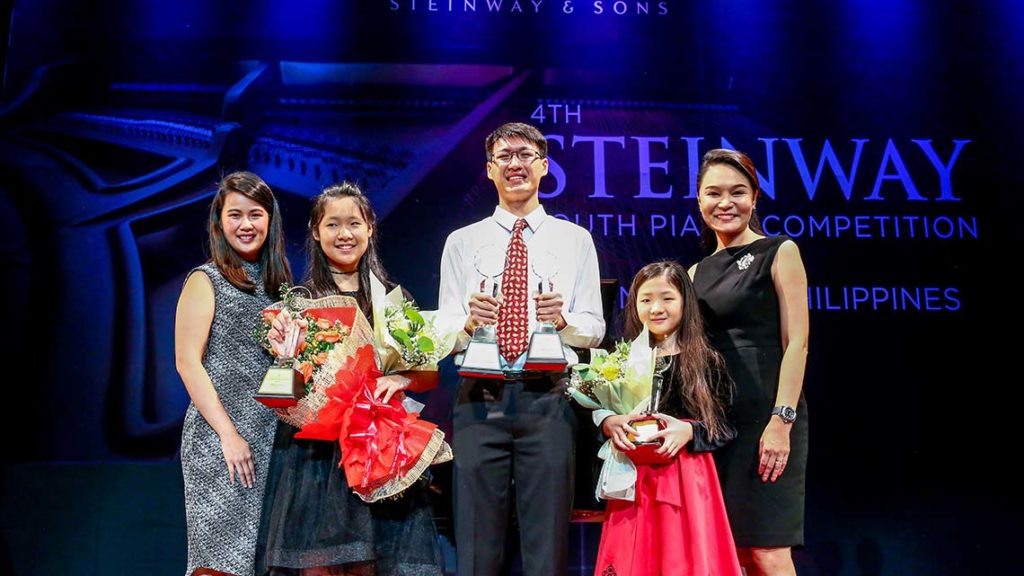 Sixteen year old Gregory Cheong washailed the grand prize winner of the 4thPhilippine Steinway Youth Piano Competition. He topped 15 other finalists aged between 8 to 17 years old at the competition held at the Carlos P. Romulo Auditorium in RCBC Plaza, Makati City. Gregory will represent the Philippines at the Steinway Regional Finals in Taiwan this coming August.
Cheong, who performed pieces by J. Haydn, C. Debussy, and F. Chopin, also took home the top prize for Category 3 (ages 15 to 17). The winners for Category 1, ages 11 and below, are: Selina Go (1st place), Angelmay Tsai (1st runner up), andWilliam Matthew Lim (2nd runner-up); for Category 2, ages 12 to 14: Athena Justina Elizaga (1st place),Nathan Go (1st runner up), Catherine Li (2nd runner-up), and Sophia DomiqueSumolong (imagin.Asia representative); and for Category 3, ages 15 to 17: Irene Jasmine Lee (1st runner up) and Andrea Bernadette Verzosa (2nd runner-up).
The Grand Finals was adjudicated by Steinway Artists Professor Benjamin Loh (Singapore) and Professor Eleanor Wong (Hong Kong), as well as Professor Albert Tiu who is a renowned Filipino pianist based in Singapore.
Brand Manager of Steinway Boutique Manila, May Yao says, "We saw wonderful performances from each contestant! It was clear that they all put their hearts and souls into the pieces that they played, and it was a treat seeing how they interpreted such timeless, beautiful compositions. We are very excited to have Gregory represent Philippines at the Regional Finals in Taiwan in August. I would also like to congratulate the winners from each category who have dedicated their time and efforts to prepare for the Grand Finals."
The Steinway Youth Piano Competition is an important biennial event organized by Steinway & Sons to identify, encourage, and promote young pianists in the formative stages of their careers. The winner will represent Philippines in the regional round, joining seven other finalists from Indonesia, South Korea, Malaysia, Singapore, Taiwan, Vietnam and Thailand who will compete to represent these Southeast Asian nations in the International Steinway Festival in Hamburg, Germany in September this year.
Chairlady of Steinway Youth Piano Competition, Celine Goh says,"The Steinway Youth Piano Competitionis a holistic approach to the art of piano playing and it is a platform for young budding musicians to get together, foster friendship and the joy of making music. There is of course a competition pressure but the real reward is to be part of it, and to be part of a big family of young people who loves to play the piano."