Steinway Artist Raul Sunico Conferment Ceremony
March 28, 2019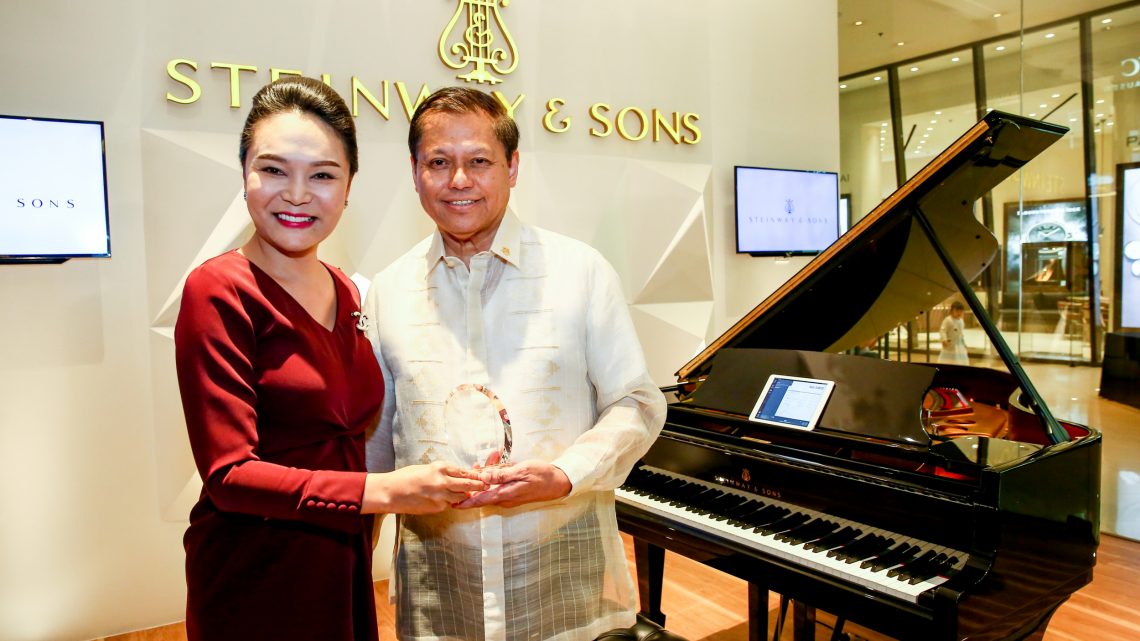 On 21 March 2019, Dr. Raul Sunico was conferred the distinguished title of Steinway artist in Steinway Boutique at Shangri- La Plaza. "He's the most deserving, with his remarkable career as a dean, educator, CCP president, and arts manager, and his solo career as a concert pianist that has taken him all over the world," Ms. Celine Goh, Steinway Gallery Singapore and Steinway Boutique Manila manager said. But that was not the only occasion that Steinway was celebrating.
Dr. Sunico has also joined the roster of about 1,800 renowned pianists such as Lang Lang, Yuja Wang, Billy Joel and others in the Steinway Spirio. The Spirio is the latest innovation from Germany's venerable piano manufacturer Steinway and Sons. It is known as a high- resolution re-performance instrument. Looking like any other handcrafted German Steinway, the Spirio is a combination of advanced technology, software, artificial intelligence and artistry controlled by an iPad. Now, the masterpieces of infamous artists can be played in every living room with a Steinway Spirio.
The celebration began with Ms. Goh pinning Dr. Sunico the Steinway Artist's Badge and presented him a plaque to honor him with the Steinway Artist title, while brand manager May Yao presented him a Steinway Artist Certificate. As a surprise, a video message from Mr. Gerrit Glaner, Steinway's head of the Concert and Artist Department was played to congratulate Dr. Sunico and announced that his photograph will be part of the gallery of outstanding artists in Steinway's headquarters in Germany.
Soon after, the guests were able to witness the piano self- play "Bato sa Buhangin," an original Filipino composition, as if it has a life of its own. The guests were mesmerized by the movement of the keys without a pianist present. The piece was pre-recorded from Dr. Sunico's trip to New York last year. The pianist, Dr. Sunico, was actually standing at the sidelines, watching as the keys on the piano played the music by themselves. It was like an invisible force had taken over. Then, Dr. Sunico sat in front of the piano to play the exact same piece. The composition was very similar however there are some subtle changes as Dr. Sunico is notorious for his improvisation work. There is no single song that is the exact same piece when Dr. Sunico plays them. When the program was about to end, the guests were demanding a final performance which he played "Hanggang sa Dulo ng Walang Hanggan." It was a fantastic performance!
This conferment ceremony was long overdue. We are glad to present this Steinway artist title to Dr. Sunico in recognition for his contributions into building the Philippine culture and music. With Dr.Sunico's recording of five Filipino compositions, which will now become part of Steinway's library, Sunico hopes to make Filipino music part of the world repertoire.
Dr. Raul Sunico's Steinway Artist Conferment Celebration last March 21, 2019 at Steinway & Sons, Level 1, East Wing, Shangri-La Plaza, Mandaluyong